$50.00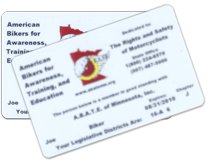 What you get with an A.B.A.T.E. membership.
•    Support of Motorcycle Safety Training.
•    Representation in state government.
•    Admission/discounts to many A.B.A.T.E. and other organizations' social functions.
•    Discounts on parts, accessories, and more at participating shops throughout the state.
•    Reduced insurance rates.
•    Monthly chapter meetings to keep you up to date and informed.
•    Subscription to the state newsletter Road Noise.
•    Accidental Death and Dismemberment Insurance Policy.
•    Information on legislation.
•    Primary sponsor of Motorcycle Dial-A-Ride.
To join ABATEMN with a couples membership please fill in the form below (note: quantity of 1 = 2 people! If you are ordering for one couple [2 people] select a quantity of 1.)