$20.00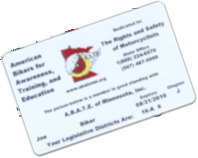 No matter what your level of interest is, we're sure that you will find A.B.A.T.E. of Minnesota both informative and interesting. Membership is open to anyone interested in promoting freedom of choice, no matter what type of motorcycle you ride or whether or not you ride a motorcycle.
What you receive with your A.B.A.T.E. membership:
Support of Motorcycle Safety Training.
Representation in state government.
Admission/discounts to many A.B.A.T.E. and other organizations' social functions.
Discounts on parts, accessories and more at participating shops throughout the state.
Reduced insurance rates.
Monthly chapter meetings to keep you up to date and informed.
Subscription to the state newsletter "Road Noise".
Accidental Death and Dismemberment Insurance Policy.
Information on legislation.
Primary sponsor of Motorcycle Dial-A-Ride.